How a French language teacher from Louisville uses ShowMe in the classroom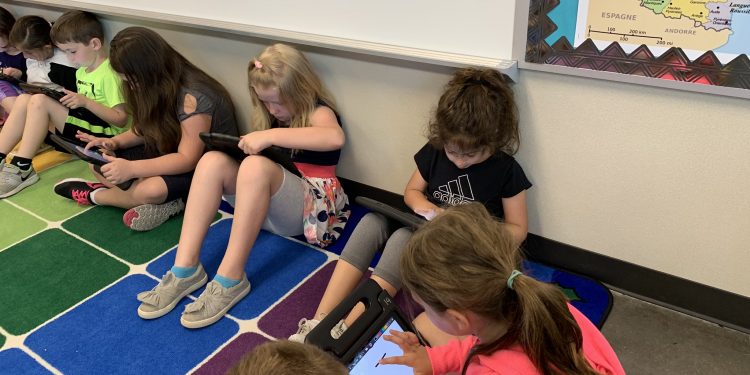 Meet Emily, a French language teacher at Norton Commons Elementary School in Louisville, KY.  Emily has been teaching for 19 years, and throughout her career, she has taught in elementary, middle and high school. Emily has also experience in working as a technology teacher, "I was previously a district technology teacher leading a STEM bus program and professional development for educators."
We asked Emily a few questions about her teaching methods, her approach to educational technology and the way she uses the ShowMe app in her classroom.
Emily admits that technology has been an important part of her classroom for a long time. What she appreciates the most is the way it is constantly changing. "Technology allows students to create, explore and expand their learning. I am a continual student myself, learning new ways to get my students thinking and learning through tech," she explains.  
Although, Emily's classroom is not entirely flipped she incorporates technology on a regular basis. Emily admits that the biggest obstacle in implementing flipped learning would be providing students with access to the study materials outside of school. "In our district, our student population is very diverse and we have many students that do not have access to technology or internet outside of school," Emily describes, "As our district works to move to more one-to-one schools, we are working to catch up. Our city is also working towards bridging our digital divide through low-cost internet and offering devices."  
Despite obstacles, in her classroom, Emily uses plenty of impressive tools to enhance the learning experience of the students. Her 2nd-5th graders are well versed in G Suite for Education apps to create projects. While the K-5 all explores the world through VR, use Scratch Jr., and use FlipGrid to respond to tasks and create. Emily adds that her 3-5th graders have created with Minecraft EDU and Scratch coding.
ShowMe has been present in Emily's teaching experience for about 3 years. As she told us, the app allows her students to take control of their learning and gain confidence. Emily explains, "When students can work independently to demonstrate learning, it gives me more time to reach those that need more support. Students are using the app to teach others and evaluate their learning, which is so much more powerful than a teacher-led lesson."
Emily encourages her students to use ShowMe to demonstrate their learning and practice using the French language.  "A student is more confident to speak when talking to the iPad instead of in front of the whole class," Emily confesses, "This week, for example, my kindergarten students used the app to draw clothing and weather when they heard the French phrases. My older students can record themselves describing photos or scenes in the target language."
ShowMe allows students to create their own creations. They can simply use a picture of an assignment and write the answers on it. Moreover, they can create a video to teach the content to others or even use their own drawings to describe or narrate.
Emily's favorite ShowMe's feature is an integration with Google Drive. The feature allows to seamlessly import and export files between ShowMe and Google Drive. For instance, once the ShowMe creation is done, it's possible to immediately save it on the cloud. Also, when a file is saved on Google Drive, ShowMe enables to import it and create a lesson based on the file!
When asked if she has any tips for educators who just start their adventure with ShowMe, Emily simply answers, "The tutorials and examples on the ShowMe website are great to show students and also for first-time educator users to see how it works.  I've demonstrated this in Professional Developments I've led and educators love it."
If you are looking for stories of other ShowMe educators make sure to have a look at our articles about Paul, chemistry teachers from NY, and Tiffany, a math teacher from Pennsylvania.