ShowMe Premium: Save Your ShowMes as Drafts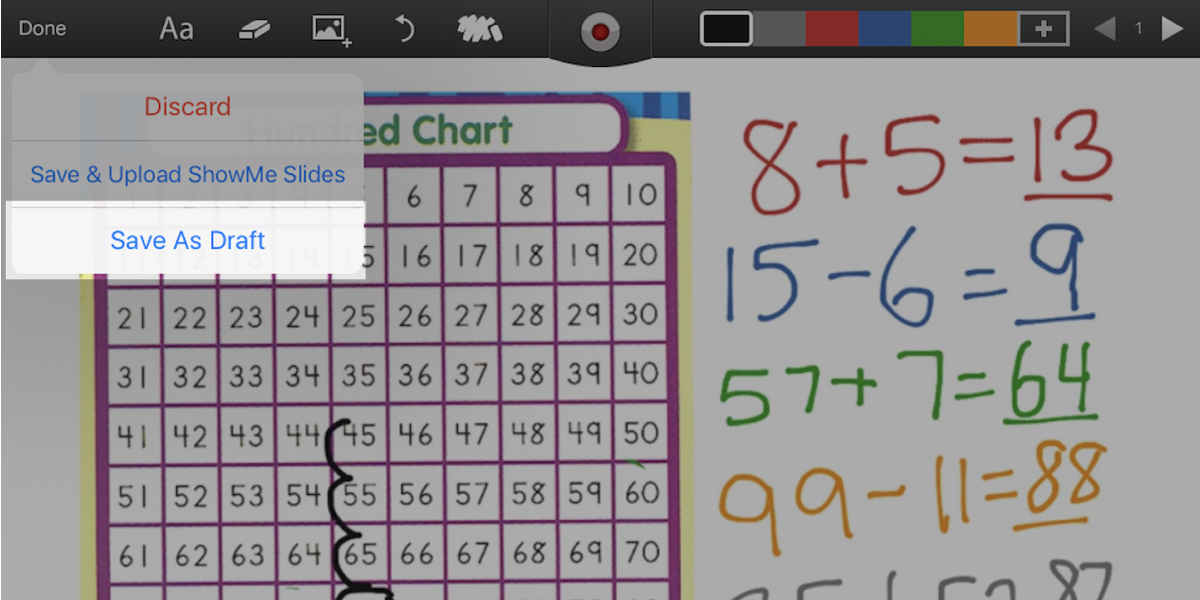 A teacher's life is often hectic and full of interruptions, delays, and spontaneous incidents; as such, you most likely don't always have time to plan an entire ShowMe in one sitting. Luckily, with ShowMe Premium's Draft feature, you don't have to.
Create When You Can
Put simply, saving a draft of a ShowMe allows you to save the work that you've completed and return to it later. Instead of choosing between finishing the ShowMe now or uploading a partially completed ShowMe to your profile, you can just pause your project until you're ready to resume working on it.
Saving a ShowMe as a draft rather than having to finish it in one take also means that you can work on a project throughout a day or a week, saving a draft when necessary and returning to it when possible. This is ideal for ShowMes that are contingent on data that gradually becomes available—as in the case of a Chemistry class—or that have to change to reflect current events.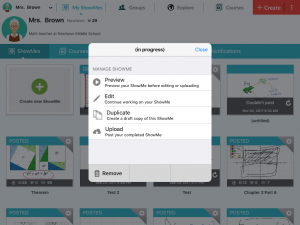 Work Smarter, Not Harder
Another huge benefit of saving your ShowMes as drafts is that you can chunk your work time without having to worry about losing your progress. Your creative inspiration is at its highest when utilized in spurts, so try working on a ShowMe for 15 to 30 minutes, saving it as a draft, performing some other task for a chunk of time, and then returning to the ShowMe for another 15 to 30 minutes.
This concept is especially relevant when working on ShowMes throughout a typical class day. For example, if your prep time falls two periods before lunch, you might take some time to work on the ShowMe during prep, teach for a period, and then review your progress over lunch. This way, your iPad doesn't need to be plugged in and off-limits all day, and you don't need to worry about rushing an important lesson.
Outline Now, Finish Later
One of the main goals of ShowMe is to help foster creativity—both for your students and for you. Being able to save your ShowMes as drafts means that you can start a project when you get an idea, work on it until you're stuck, and then save it and return to it when you're ready to flesh out the concept a bit more. Since all of your classroom materials are in one place when you use ShowMe, you can even reference your work-in-progress during lessons if need be.
One final aspect of saving your ShowMes as drafts is that it allows you to create comprehensive outlines of material now and add to them later. One of the hardest parts of creating any lesson is getting started; if you're able to create a batch of outlines one day and work on them the next, you'll notice a marked difference in the quality of your content.
Saving a draft of a ShowMe is just one of the many exclusive features that you can enjoy as a Premium ShowMe user. For more information on how ShowMe Premium can revolutionize your classroom experience, head over to the ShowMe Premium page to review your options or subscribe to premium features today!