Introducing: ShowMe and Scriba Integration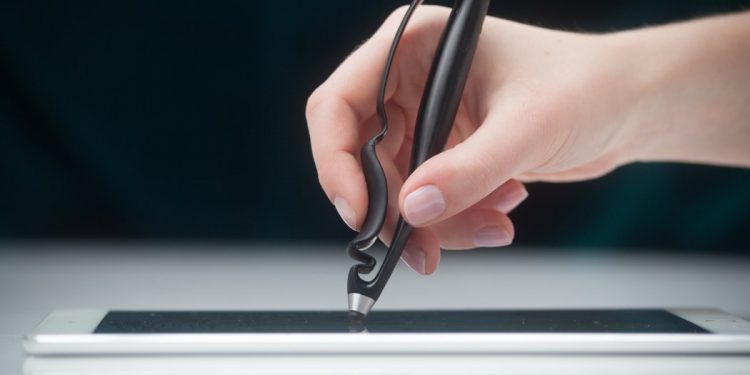 There is nothing more important for us than constant improvement and creating your experience of using our app even more enjoyable. In order to make it happen, we started a new partnership with awesome Scriba tool. As a benefit of this cooperation, we created a very exciting program for ShowMe Educator across the United States! For over a month 100 participants were testing Scriba tool and ShowMe together. They discovered our cooperation and explored new awesome features!
What is Scriba?
Scriba is an amazing tool, a stylus designed around the natural movements of your hand. With a flexible body and dynamic squeeze-motion, Scriba responds to your every touch. Its unique form has been designed for intuitive use, complementing the hand's natural movements and grip. We believe that Scriba can take the process of creating ShowMes to another level! The stylus is tightly integrated with ShowMe, which makes an already simple to use app quicker to work with. Implementing Scriba can bring plenty of benefits to your classroom. Everything you mark, write or draw is going to be more detailed.
New Features
ShowMe and Scriba are tightly integrated, it means that our teams developed awesome features to improve the process of creating interactive lessons. How does it work? It is extremely easy – the only thing you need to do is squeeze the stylus!  One squeeze turns the color, two squeezes change the pen thickness and holding a squeeze activates the eraser.
Teachers about ShowMe & Scriba
Teachers who tried to implement Scriba stylus into the process of building their lessons are amazed how efficient the integration is! Read some of the comments, and make sure to check out or ShowMe + Scriba page to learn more and purchase your own stylus!
Just makes everything easier and smoother to work with. It's much more comfortable to hold so I feel like my writing is neater and it eliminates me having to click things with my hands – just easier overall. – Nate Eleuterio
I love being able to control everything with a squeeze. So easy to use that it takes less time to make my ShowMes. – Jamie Reid
I use it every day. It writes so beautifully and smoothly. My administrator commented on the smooth writing when I showed him a video I created using ShowMe with the Scriba. – Heidi Herr
It's a very nice stylus.  It fits in my hand better than a pen style stylus. I have noticed a decrease in hand fatigue. – Curtis Pilgreen
It writes beautifully.  I love the click to erase feature! – Susan Eriksen
If you have any questions don't hastate to contact us via support@showme.com!