How a 5th-grade teacher from Brownstown, Michigan, uses ShowMe in classroom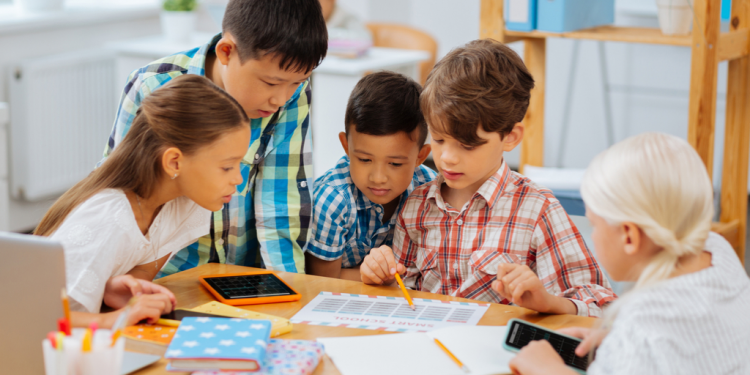 Josh Satterfield is a 5th-grade teacher at Wegienka Elementary in Brownstown, Michigan. He has been an educator for seven years within the 4th and 5th grades. Josh also has an online educational consultation company called The Teacher's Playbook. He provides online module training and resources for K-12 educators. You can find out more about his educational consultant services at www.teachersplaybook.com. 
Josh has been using ShowMe for over a year now. We asked him about his experiences in practicing the app and how does it influence his teaching experience. 
How does educational technology influence your classroom?
I've used educational technology as a bridge between the schoolhouse and home, as well as a way to engage and motivate my students. I've found that by utilizing technology, especially the ShowMe App, I've been able to communicate to families in a highly effective way.
For example, each homework assignment that I give for mathematics has a QR code on it. This QR code can be scanned with any mobile device and it will take the user directly to a ShowMe App created an instructional video. The video is directly aligned to the assignments learning target which helps reinforce my instruction at home and in school.
Did you meet any obstacles in implementing flipped classroom in your teaching process? If yes, what was it?
The most challenging part is the initial buy-in from families. By 5th grade, most families are not used to a teacher providing their child with an instructional video. Once this is done, however, they quickly realize how valuable this style of teaching can be.
How has ShowMe changed the way you teach?
It has changed the way my students learn more than the way I teach. It has empowered my families to help their children with the confusing Common Core math instruction that they felt so helpless about before this tool. I've also had a stronger relationship with parents because they truly feel that I am doing everything I can to educate their child.
What are some other cool tech tools you use in the classroom?
Nearpod, Flipgrid, ClassDojo, CommonLit.org, NEWSELA, Freckle, IXL, Quizlet, Vocabulary.com, Google Classroom, Kahoot, PearDeck.
Do your students use ShowMe? How do you encourage them to use technology in their learning process?
My students do not create on ShowMe. The online access the videos I've created for them to watch while working through their homework at home or during Math Workshop in school.
What is your favorite ShowMe feature? What do you like the most about using ShowMe?
I love how simple it is to create new content, add images, and upload my video to a unique URL. Also, the new Google Classroom feature is excellent!
How do you prepare your ShowMe lessons? Do you prefer creating slides or videos?
I utilize the learning objectives within my pacing guide to create videos aligned to students' homework assignments. From there, I create the ShowMe lesson by demonstrating the criteria of success for a few math problems on that specific homework assignment. I prefer to use the whiteboard and use the text and pen features to create a quick and objective online instructional video.
Do you have any tips for new users?
Jump in with two feet! You can do this and it will transform your students' level of mastery of content. Also, your students' parents will be just as excited, because they feel empowered to help their child.
Make sure to read articles about other amazing ShowMe educators:
How a 1st-grade teacher from Garland, TX, uses ShowMe in the classroom
How A Teacher From Michigan Uses ShowMe To Enhance Students Reading